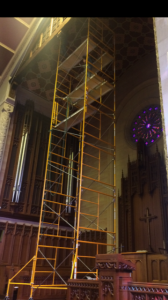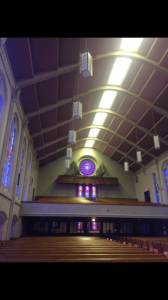 When the medieval cathedral evolved in Europe, the architects weren't thinking about how to light them using electrical bulbs! In fact, they might have re-thought using such towering open spaces if they did. On the other hand, the acoustics of those cathedrals are too wonderful to dismiss.
Today, it's still a challenge to light churches and other places of worship because of the high ceilings. This is true for any building with high ceilings, such as auditoriums and gyms. You need an expert electrical contractor who has the skill and equipment to take on this task.
And you've found the right people—here at ServiceMax! As part of our lighting services , we can replace and work on lighting in high reach areas at up to 40 feet ceiling heights. Churches are our specialty. We have special scaffolding and aerial lifts that allow us to handle such tricky jobs. (You can see a picture of one of our scaffoldings on this post, as well as an image of a completed job we've done once we've cleaned up.) Our team can get to all the hard to reach places and get the job done quickly and safely.
You only want the best electricians for any indoor lighting work. We've been in the service industry since 1998, and our electricians are licensed and experienced. Put us to work for your lighting in high reach areas and we'll see you're thrilled with the results.
ServiceMax serves Chicagoland, IL. We're open all day, every day!