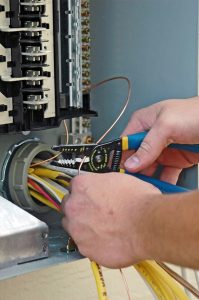 You need electricity to run your heating system. That's true even if you have a gas-powered system like a gas furnace or boiler. Modern gas heaters use electronic ignition systems to fire up their burners and they also need electrical power for other components, such as the blower fan that sends heated air from a furnace and into the ventilation system.
If you run into trouble getting your heater to run, it's possible you have an external electrical issue rather than an issue inside the heater. Regardless of what the source of the problem is, you'll need experts—either in HVAC or residential electrical systems—to assist you with locating, identifying, and fixing the problem. Since we're both electricians and HVAC technicians, you can trust us to find out what's wrong with your heater and get your house warm again.
The electrical panel problem
Is your heating system causing a circuit breaker to trip when it comes on? This could come from a short in the blower fan motor, a broken sequencer in an electric furnace, or a clogged air filter. But there's also the possibility that the problem comes from the circuit breaker panel itself. The panel may be wearing down and overloading too easily. If you notice scorch marks on the panel, call for an electrician right away to see if you need a new electrical panel put in. (If you're still using an old fuse box, you definitely need to upgrade.)
Bad wiring
Older or damaged wiring in a house can also cause a heating system to fail. If you've noticed flickering lights around the house, outlets and light switches growing hot, or acrid smells along with a heater that won't turn on or won't stay on, you probably need to have rewiring work done. This is especially a concern in older houses with outdated wiring.
Power surges
You may think of a power surge as something that only occurs in catastrophic situations, like a lightning strike. But many small surges can affect your home without you noticing much more than slight changes in the lighting. The effects of these many surges, however, can lead to serious damage to your heater (as well as your AC), contributing to many repairs and failures. We recommend having whole-house surge protection installed to prevent your heater from having its service life shortened.
There are many types of electrical issues that can affect a heating system, and with so many possibilities it can be difficult and time-consuming to correctly diagnose what the actual problem is. This is why you'll need a licensed electrician or HVAC technician on the job: that way, the problem will be identified correctly and quickly.
For an electrician in Evanston, IL who can tackle any electrical problem connected to your heating system, call on us. Our goal is to offer "best in class" when it comes to heating, air conditioning, and electrical work. You can reach us 24/7 when you have emergency needs.
ServiceMax is dedicated to your 100% satisfaction. Serving Chicagoland, all day, every day!