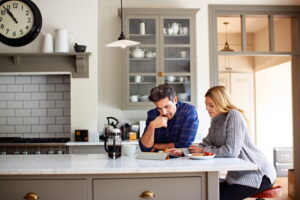 The beginning of a new year is a time full of potential and the focus on new habits and patterns. Maybe you want to take up knitting or try a new sport or perhaps you want to try to get outside on a family walk more often. These are all great ideas, made better with the addition of a new heater in your home.
The new year is all about getting started right and what better way to do that than to upgrade your heater? We install heat pumps in Chicago, IL in a variety of homes to help keep people warm at an affordable cost. Here's what you need to know about these systems so you can determine if one is right for you.
What a Heat Pump Does
Perhaps you've heard that heat pumps are great for keeping your home cool in the summer but you aren't sure if one can keep you warm during the winter. They certainly can! Heat pumps operate by transferring heat rather than creating it the way a furnace would.
Heat pumps operate by cycling refrigerant to move heat. The key difference is that they can reverse the flow of refrigerant in order to bring heat indoors rather than pulling it out. This makes them effective and efficient for homes throughout Chicago.
The Benefits of a Heat Pump in Your Home
If you are looking to upgrade your heating system, a heat pump can be the ideal option. Let's look at some of the benefits that come with this system.
Increased energy efficiency: Heat pumps are going to provide great energy efficiency. This isn't to say that furnaces or boilers are inefficient. But they can't compare to a heat pump which moves heat to warm your home and uses less energy to do so.
Reduce energy use: We touched on this a moment ago but we'd like to expand on it. With heat pumps, because they don't need to burn fuel, it is possible to use far less energy than with other systems.
Year-round comfort: Heat pumps can offer you comfort all year long as well. That means that you can enjoy heating in the winter and cooling in the summer, thanks to the ability of this system to reverse its refrigerant flow. If you need a new heater and a new AC system at the same time, a heat pump is the ideal solution.
Ducted and ductless options: Maybe you are on the hunt for a heater that doesn't require ducts. Then a heat pump can still be a great option! This is because heat pumps can be connected to your ductwork or can be ductless depending on what requirements you need to meet in your home.
Ready to kick off the new year with a new comfort system? If so, make sure to give it the best possible start with expert installation services from one of our professional technicians.
Contact the technicians at ServiceMax to get started. We are open 24/7—all day, every day!