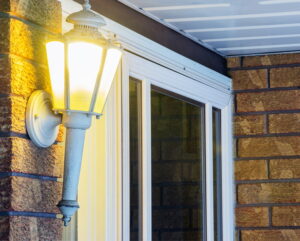 It won't be an exaggeration to consider lighting as one of the most critical components of any house. Be it indoors or outdoors, great lighting improves safety, and adds to the beauty of the home.
Outdoor lighting specifically adds a lot of character to a house. Warm lights, bright lights, colorful lights, can all be used to improve your use of your home after the sun sets. They can also add to the atmosphere of your house.
Let's look at some benefits of adding some outdoor lighting and why you can count on our team to install any hard-wired lighting around your home.
Security and Safety
Thieves stay away from a well-lit home. Yes, it's true. A study found that the right outdoor lighting could reduce crimes by 39%.
Even if someone with wrong intentions enters your house, professionally installed lighting will help ensure that they can't hide for long.
But, the benefits of outdoor lighting don't just stop there. In case of a hurry, great lighting can be instrumental in navigating through your home as well. That's especially useful if you have frequent visitors to your home. They will have a lot more confidence and convenience in navigating to or from your home with proper lighting to guide them without fear of tripping or stumbling.
Looks and Ambiance
You probably already know this but good lighting can drastically change the way a home looks.
It helps make your home much more noticeable and eye-catching. At the same time, strategically placed lights can help better highlight some areas of the house.
Got some rare plants/trees in your garden? A light on them could make people notice them a lot more.
As if that wasn't enough, in the darkness of light, even the smallest of lights can add depth, character, and personality to your home.
Quality of Life Improvements
Yes, good outdoor lights can have a great impact on quality of life improvements. Want to sit in the open sky and read a book on a warm night? The right lights will allow you to do that. Not sure what's happening in the street? Good lights would increase your visibility in all weather conditions.
Planning to fire up the BBQ in the evening? Great idea. Planning to cook without outdoor lights? Bad idea. The right lighting can be very instrumental in the long term.
Get Your Outdoor Lighting Organized
By now, you'd have realized the importance of having great lighting around your home. Now is the time to take action. Decide on what kind of lighting you want outside of your home and then hire an expert electrician to ensure proper installations.
The right electricians have the knowledge and experience to perform installations that will last you for the years to come. The upfront investment in an electrician can have huge returns in terms of the longevity of your lights.
Finding great electricians isn't easy. Well, we've got you covered. We will help you get your outdoor lighting fixtures done by the best electrician in Niles, IL.
Contact ServiceMax to book an appointment with one of our expert electricians.