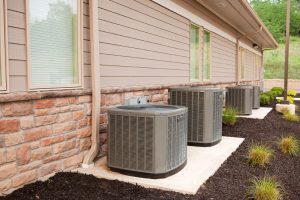 Most people don't give a second thought to their air conditioning systems until something goes wrong. Even in the hottest summers, your home's climate control relies on a properly functioning air conditioning system so if something goes wrong with it, you're going to notice!
But how can you tell whether it's time to replace your air conditioning? Replacing an aging air conditioner involves a significant amount of work and money. On the other hand, maintaining an inefficient air conditioning system will lead to greater utility costs in the long run. If you are noticing worsening comfort and increasing costs, there is a chance that it's time to get a new cooling system for a more energy-efficient home.
Here are some telltale signs that you need a new air-conditioning system.
1. Your Air Conditioner System Is Old
With regular care, most air conditioners may endure for at least 15 years. You may want to think about getting a new one if your current system is over that age. Worse is if your warranty is no longer effective if an expensive component breaks down making it far more costly to replace.
2.  Maintenance and Repairs Have Been Put Off
Since you installed it, has the system gotten the maintenance that it needed? A yearly checkup for air conditioners is the minimum amount of care given to them. That way, problems can be identified before they become major ones requiring repairs.
Repairs are still possible if you've taken good care of the unit. Maintenance can prevent up to 85% of the repairs, but won't prevent all of them. The key is to make sure that you schedule maintenance each year and prompt repairs as needed. If these practices haven't been followed well (or at all) it makes it far more likely that you'll need a replacement much sooner.
3.    High Cost of AC Repairs
Consider how much it would cost you to have the unit repaired rather than replacing it. If the price is getting too high, then it may not be worth it. In some cases, these can cost the equivalent of a new air conditioner. If the repair costs more than 50% of your air conditioner's value, it's time to talk to a technician about getting a technician.
4.   Increasing Number of AC Repair Needs
Another thing to take into account is the possibility of more than one repair being required if your air conditioner is having serious problems. If you are requiring at least one repair each year, or multiple repairs all within one year, then you have a system that needs to be retired.
Need a new air conditioner?
If you've noticed any of the signs listed above, you may need a new air conditioner. Getting your air conditioning system checked out by a competent service provider is the first step.
ServiceMax is the top-rated business that will help with your AC replacement in Chicago at reasonable pricing. If you notice any of these issues with your air conditioning system, don't hesitate to call us. Regardless of the problem, we have the right solution for you.
Contact ServiceMax today! We are here to help, 24/7. We can get your new system set up and running properly in a timely manner.