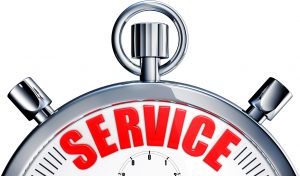 After providing air conditioning service in Niles, IL for many years, we've seen many customers struggle to determine which type of AC service they really need. They call us when their home is unbearably warm on the hottest day of the summer or they can't get the system to turn on at all. By then, a significant repair, if not a system replacement, may be necessary.
In other cases, there are some signs of trouble, but homeowners don't want to hear that their AC system is at the end of its life. We've seen people put off calling for help until the system breaks down entirely.
If you know that your AC isn't performing up to expectations, we can help you determine what type of AC service you need right now. There are three basic options, and it's not too difficult to tell the difference. Wherever you think you are right now, a quick call will always work out in your favor.
Is It Time for AC Maintenance?
Has it been a year or longer since your last AC tune-up? If so, then it's time for maintenance even if your system is functioning well. The longer it goes without proper maintenance, the more inefficient it will become at producing the cool air you need to live comfortably. Eventually, you will need AC repair and may face an emergency repair bill.
A poorly maintained AC system will use more energy than one that is cleaned and checked regularly. The cost of an annual tune-up is more affordable than paying for frequent repairs. It can also save you from a 5% efficiency loss each year.
Signs You Need AC Repair
Have you noticed an unexplained increase in your energy bill? That's often one of the first signs of an air conditioning system struggling to keep up with the demand for cool air. You may also notice that your home just isn't staying as cool as you like despite seeming to run all the time. Warm air coming from the vents when the AC is switched on is a definite sign that a repair is needed.
You know you need to call for AC repair ASAP when your system:
Is no longer producing cool air
Produces weak airflow
Operates in short cycles (starts and stops repeatedly)
Utilizes excessive energy
Makes odd noises
Signs You Need AC Replacement
Our goal is to repair every AC system until it is no longer the most cost-effective option for the customer. With time, your system will lose efficiency and start to utilize more energy while breaking down more frequently. That's when many homeowners decide that it's worth the investment to replace their system.
There are three big signs that your AC system is due for a complete replacement:
Frequent repair bills (every year)
Complete breakdown
10-15 years of age
The first time your AC fails to produce cool air at all isn't necessarily the end of its lifespan. You may just need a significant repair to get your system up and running again. When there is no affordable fix for the system or you're calling for emergency repair all too often, then an AC replacement becomes the best option.
Are you ready to schedule AC maintenance, repair, or replacement? Contact ServiceMax today to get your AC services from a professional who will get the job done right.