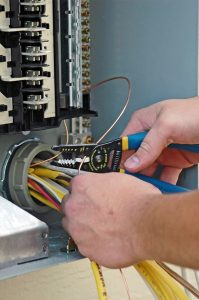 Your electrical panel, commonly referred to as a circuit breaker is a critical component of any household. Anything that uses electricity needs an electrical panel to work properly and safely. But how do you know when it's time to upgrade it?
The average lifespan of an electric panel is typically 25 to 40 years. Various factors affect the lifespan, like power surges, general wear and tear, and damage caused by outside factors. Here are some warning signs that you need to update your electrical panel. Use these indicators to help determine if you need to reach out to one of our expert electricians.
Flickering lights
You may occasionally see a lamp flickering that just needs you to tighten the bulb. But if multiple lights are flickering throughout the house, it could mean a more severe problem. A fluctuation in total household voltage causes flickering lights. These abrupt changes in voltage from low to high can damage your electronics and may cause an electrical fire.
Even if the flickering lights seem harmless, they could point to serious underlying problems with your electrical panel and pose a dangerous fire hazard.
Additionally, your lights shouldn't flicker just because you plugged in a vacuum to turn on your air fryer. If you're dealing with such fluctuations in power, it could indicate that you need to upgrade your electrical panel.
Frequent Circuit Trips
Circuit breakers trip for various reasons. It could be faulty wiring, a bad breaker, or a problem with your electrical panel. When the circuit trips frequently, too much electricity is trying to get through the circuit at once. Fires and electrocution can result from too much electricity passing through the circuit so don't ignore this problem. Make sure to have an electrician check things out.
Inconsistent Power to Different Outlets
Do you have an outlet that seems to charge your phone much faster than one in a different room? You may not think much of it, but the low voltage in outlets causes various problems, like:
Burnt outlets

Energy waste

Additional wear and tear to appliances
Potential fire hazards
While inconsistent power can result from faulty wiring, it may also result from an outdated electrical panel.
Current Panel is Over 20 Years Old
As mentioned earlier, the average lifespan of an electrical panel is anywhere from 25 to 40 years old. If your electrical panel is over 20 years old, it may be time to upgrade it. If you're unsure what to do, you can always have an electrical inspection done to see if an upgrade is your best choice. No matter what though, do not try to perform this job yourself.
You Still Have a Fuse Box
If your home is more than 20 years old, you may need to consider updating to an electrical panel as you may still have a fuse box. Electrical panels and fuse boxes are very different. Electrical panels have switches for each circuit, while the fuse box has circular fuses that burst or break, rather than trip.
It's time to upgrade, and you need to find a solid electrician in Chicago, IL. Well, you're in luck.
Need help getting your electrical system back in prime condition? Reach out to ServiceMax to schedule an appointment today.