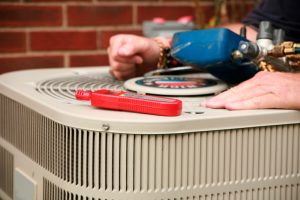 Last month we offered tips on how to shut down your air conditioning system at the end of the season so it's in the best shape for next year. But since your air conditioner is probably still putting in days of work here in the early fall and it's not yet time to shut it off completely, we want to warn you to keep a sharp watch for possible malfunctions. If your AC needs to have repairs, call our technicians right away to schedule service before you need to shut down the system for the coming winter weather.
Why should I bother to repair the AC when I won't be using it for months?
This is the obvious question people have when they hear advice about late season air conditioning repairs. It seems strange to them to be concerned about AC performance if the system won't need actually to perform for the next couple months on the calendar. We mentioned the need to attend to air conditioning repairs, no matter the time of year, in our earlier post, but we'd like to go into a bit more detail about why prompt AC fixes are vital, even with winter right around the corner.
Hot weather can still surprise us: You want to ensure your cooling system is ready to handle sudden heat waves, which are still possible during the fall. An AC has already gone through an immense amount of stress after the summer, making it more likely to suffer a malfunction at the end of the season. If something seems wrong, you'll want it fixed so it doesn't cause your air conditioner to shut down when you suddenly need it again.
Extra stress on the system shortens equipment life: A mechanical or electrical problem in an air conditioner will cause the AC to work harder than it should, even if the problem isn't causing the air conditioner to lose cooling power. The additional stress increases wear and tear, and that means an AC that declines faster. You may end up having to replace the system earlier than you should because of this—so have those repairs done as soon as possible.
Delaying repairs often means more expensive repairs: Most malfunctions in an air conditioning system will spread as they create strain on other components. If you wait on repairs, shutting down the AC at the winter without fixing them, you'll probably run into a pricier repair, or more than one repair, later on.
Be prepared for next year: When the first hot day arrives in spring, do you want to turn your air conditioning system back on… only to discover that it won't come on? Of course you don't! But this is a major risk you run if you let repairs linger after the end of cooling season.
It's not hard to arrange for late-season AC repairs: for great service for your air conditioning in Glenview, IL or elsewhere in Chicagoland, IL, contact us. We have technicians ready 24-hours a day, 7-days a week to repair your air conditioning system.
ServiceMax is open 24/7—All Day, Every Day!