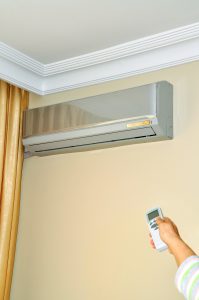 You deserve to be able to stay cool during summer. That can be tough to accomplish in some cases though. If you have a home that can't accommodate ductwork, you may be looking at battling with a window unit or, worse, a bunch of fans, in a desperate attempt to stay cool. On the other hand, if you do have ductwork you may be pensive about using your AC still because those ducts aren't as reliable as they used to be but they are too pricey to fix up.
Both of these issues have a common cause: they require cooling solutions that don't use ductwork. Thankfully, when it comes to all things to do with air conditioning in Oak Park, IL we can provide. You can declare your independence from duct-based cooling systems this summer with the addition of a ductless mini split air conditioner.
How Ductless Systems Work
Compared to what people know about the standard types of air conditioners, ductless systems may seem too good to be true. However, these units are just as unique and beneficial as you can imagine.
Ductless systems consist of multiple air handlers connected to an outdoor unit with refrigerant and condensate lines. With this set-up, each air handler serves as a small evaporator unit that can transfer heat out of your home on a hot day this summer. With this set-up, ductless systems can accomplish the same job as a central AC without the use of ducts!
The Perks a Ductless Unit Offers
Aside from the fact that ductless systems do not require ductwork to cool your home, they also offer some additional benefits to sweeten the deal. These perks include:
Increased efficiency: One of the many reasons that ductless systems are a great investment is they will usually end up lowering your monthly energy bills. Ductless systems are well known for using far less energy to get the job done.
Year-round comfort: Ductless units are a mini split-type of system which means they can reverse their flow of refrigerant. This is great news because it means they can either pull heat out of the home or put warmth back in. In other words, you get the comfort of two systems wrapped up in one!
Easier installation: It should come as no surprise that the installation of a ductless system is less complex than that of a standard duct-based unit. Without needing to connect to ductwork a ductless system only needs a small hole in the wall for the lines connecting it to the outdoor unit. This means less disruption in your home and an easier overall installation that costs less.
Is a Ductless System Right for You?
So is a ductless system the right match for your home's needs? It depends on what you are looking for. If you aren't sure whether or not a ductless unit will meet your cooling needs, you can always reach out to a team of pros like ours to learn more.
Whatever system you select, our team is here to help. Contact ServiceMax to schedule your next AC installation.