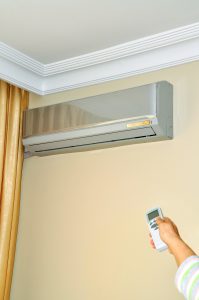 Do you think this was your last summer with your current air conditioner? If your system is getting older or can't seem to keep up with cooling your home anymore, it is likely that you will need a replacement system sooner than later. If this is the case, it is important to get this HVAC service in Skokie, IL done by a trained professional so that you can ensure your new air conditioner is installed properly.
First, you have to choose the best AC system for your home. If you find yourself in need of a new air conditioner, it is a great time to consider a ductless mini split system as an option. Let us give you some information on why ductless air conditioning systems are some of the best comfort solutions out there.
How Does a Ductless System Do Its Job?
Ductless systems are another type of "mini split" system of sorts, meaning they use an indoor and outdoor unit to do the job of cooling your home. The difference here is that a ductless system has a set-up like that of a heat pump with an outdoor "condenser" unit and indoor air handlers acting as the evaporator units. Connected to the outdoor unit by lines for refrigerant and condensate drainage, a ductless AC unit is able to produce cool air and save space all at once.
5 Perks of Going Ductless
If you are considering a new AC system and you aren't sure whether or not a ductless unit is the best match for you, then it may help to learn a bit more about the benefits that come with these systems.
A space saver: Because ductless systems use air handlers and don't need ductwork, it makes them a great solution for anyone who needs to save space. For example, if you have a smaller home that doesn't have room for a full central AC set-up or just can't accommodate ductwork, ductless ACs are a great option.
No dirty ducts to worry about: Ductwork is used to transport cooled and heated air into your home (if you have a ducted AC and heater that is). Over time, however, dirt and debris can pile up in your ductwork and hinder your comfort and your indoor air quality. Without the use of or need for ducts though, you won't have to worry about these issues.
More money in your pocket: Ductless heat pumps are known for being highly energy-efficient systems, but this isn't the only way they save you cash. The installation of ductless systems also tends to cost less. Plus, you don't need to shell out any money for duct services when you use this system either.
Customizable comfort: As we said, ductless systems use a heat pump set-up which includes the use of air handlers. These air handlers can be run one at a time if desired, or altogether to cool the whole home. This is also great because it is yet another way this system can help you save.
Year-round comfort: Last but not least, ductless systems can both heat and cool your home. This means, with one system, you get all the comfort provided by an air conditioner and a heater without needing to shell out the cash to install two systems or the space to house them!
Contact the team at ServiceMax to learn more or to schedule your installation.