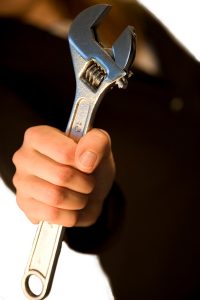 A faulty or broken furnace is an emergency during a Chicago winter. No matter how well-insulated the home, no matter how many layers of clothes people pile on, there's no way to deal with the bitter cold invading the house—except to have the furnace fixed as soon as possible.
How to do this? Call on professionals for heating repair in Oak Park, IL or elsewhere in Chicagoland. Our team of trained comfort experts can get any type of furnace back in shape. If necessary, they'll replace the furnace with a new one. You can trust us for honesty and quality work every time.
But wait a second … we know what you're thinking. You want to know if you can tinker with the furnace and fix the trouble yourself. It sounds like a much less expensive option, and you have confidence in your DIY skills. (You did put in that new tile floor yourself, after all!) Can you do any furnace repairs on your own?
No … But You Can Make Some Simple Checks
Repairing a furnace, especially a natural gas furnace, requires the vocational training and experience you'll only find with licensed HVAC technicians. In most jurisdictions, it's illegal for anyone without proper certification to work on an appliance hooked to a gas main. Allowing professionals to handle a furnace fix-it job is the responsible route. You'll have your household warmth back in no time, without safety concerns.
But you can make a few basic checks on the HVAC system before calling for assistance. Sometimes, a furnace losing heat or failing to come on is due to a simple error or glitch. Here are a few things to try if your furnace isn't doing what it should:
Check the thermostat: This is elementary, but you'd be surprised how often a simple misunderstanding among people in a household can lead to a thermostat set to the wrong temperature. Children playing with the thermostat buttons, for example. Maybe you haven't adjusted the programing on the thermostat for the change in weather.
See if a breaker has tripped: When a furnace's blower fan won't turn on, the source may be a tripped circuit breaker. (Yes, gas furnaces need electric power to run.) The blower fan motor can drain too much power and overload the circuit. If you discover a tripped breaker, reset it and see if this solves the problem. If the breaker continues to trip, call HVAC professionals.
Change the air filter: Low airflow and a drop in heat may be the fault of a clogged furnace air filter. Inspect the filter to see if it's crammed with dust and lint, and change it for a new filter if it is. We recommend swapping out the filter every 1 to 3 months, depending on filter strength.
When none of these steps solve the problem, it's time to get in touch with our furnace-fixing experts. No matter if you have an electric or natural gas furnace, our technicians will have heat flowing through your home again in no time. If the furnace is old and beyond repair, our experts will arrange for a rapid-response furnace replacement.
Serving Chicagoland, ServiceMax is open 24/7 — All Day, Every Day!