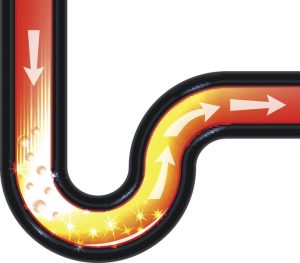 Drain cleaning is a service we often recommend to our customers. When someone has a serious drain clog or irritatingly slow drain in their home, they don't need reminders about drain cleaning: it's time to call a Chicago, IL plumber and have the obstructions removed. (Yes, you can try to use a plunger or a handcranked drain snake on clogs you run into, but if these don't work, skip the chemical drain cleaners and call a licensed plumber.)
The drain cleaning we recommend when people don't have immediate clogging issues is preventive drain cleaning. Just as the AC, heater, and water heater in your house need annual inspections and maintenance, your drains need attention each year from a professional. During drain cleaning, a plumber will use powerful tools such as motorized drain augers, hydro-jetters, and Bio-Clean to scrub and scour the inside of all a house's drainpipes. This removes all build-up inside them, which not only removes a major source of clogging, it makes it hard for build-up to start again. Cleaning also protects the drain from suffering damage because of the build-up. Soap scum, for example, can cause a chemical reaction that corrodes metal pipes.
So Why Is Now One of the Best Times for Drain Cleaning?
To be honest, there's no such thing as a ­bad time to have your drains cleaned. But November is an especially good time because it preps the drains for the season when they'll be the busiest. The end of the year is full of feasting and guests, and a home's drains—in particular the kitchen drains—will handle a great deal more work. As well as a great deal of grease and leftover food.
Here's a fact to put this in perspective: The busiest day of the year for plumbers is the day after Thanksgiving. Yes, while most people are out shopping on Black Friday, plumbers are busy with Grease Friday, unclogging kitchen drains and fixing busted garbage disposals. That'll give you an idea of how much extra work drains take on at this time of year. And the feasting hardly slows down before it starts back up again in December!
Take It Easy This Holiday Season With Clean Drains
You don't want your holiday celebrations with family and friends to have to come to a halt because the kitchen sink is starting to flood over—or a guest's shower is leaving a pool of standing water. When you have our expert plumbers in for drain cleaning, you can relax about the festivities. Well, you'll still have to worry about the cooking and the entertaining, but you'll know your plumbing won't give you any fun-stopping nightmares! Cleaning even helps for a more pleasant kitchen, since it removes a source of bad odors from the drains.
We use the finest tools, including Bio-Clean, a safe non-chemical cleaner with long-lasting effects on drains. Bio-Clean uses natural enzymes to break down the build-up and obstructions in drainpipes and sewer lines.
Schedule great drain cleaning with our team of professional plumbers in time for the holidays. ServiceMax is open 24/7—all day, every day!