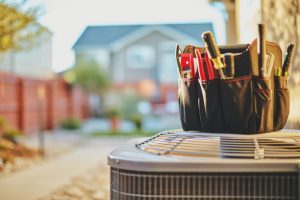 Uh-oh! Did your air conditioner just give out? Or maybe it has been struggling more than usual lately? If you don't have a reliable air conditioning system, things will get pretty uncomfortable this summer, even if your system sounds like it's running. When your air conditioner is on its last leg, you are going to want to schedule an air conditioner replacement in Winnetka.
If you need to get a replacement service, you should contact the team at ServiceMax to ensure the job gets done right. Our trained technicians can help you identify when you need to retire your old unit, and we can even assist in the selection of your new one.
Let's take a look at what you need to consider when it comes to replacing your old cooling system.
Step 1. Figure Out If You Need a Replacement
It is helpful to start here because you don't want to jump to thinking you need a replacement when the issue could be resolved with a repair. Here are the indicators to watch for:
Old age: An air conditioner that is 12 to 15 years old is one that will need to be replaced soon. Even if your aging system still runs, it won't be able to provide the level of efficiency a new AC can.
R-22 refrigerant: The production of R-22 refrigerant stopped in January 2020, which means a recharge on a system that still uses this chemical blend will soon be impossible. You will need to plan for a replacement ahead of encountering a leak.
No cooling: If your AC simply isn't able to cool your home any more despite regular maintenance and repairs, it means you should schedule a replacement to get one that actually works.
Expensive, excessive repairs: If you need repairs on a yearly basis, it means your AC needs to retire. Similarly, repairs that cost equal to half or more of the amount of a new system should be replaced too.
Step 2. Choose Your Next AC
If you didn't know this already, you do have more than one option for air conditioning systems in your home. You can choose from any of the following; just make sure to choose the one that best suits your comfort needs:
Central AC: Central air conditioners are commonly used because they've provided effective and efficient cooling systems. These are great options for homes with ductwork that require even cooling.
Heat pump mini split: Heat pumps operate with an outdoor unit and up to four air handlers placed throughout your home. These can run individually or simultaneously according to your cooling needs. What's more, heat pumps can offer heating in wintertime as well.
Ductless heat pump: Ductless heat pumps offer all the benefits of a heat pump mini split, but they also offer the perk of being able to run without the need for ductwork.
Step 3. Contact ServiceMax for Replacement Services
If you believe you need a replacement and you have an idea of what system you want to install in your home, you should contact ServiceMax. Even if you aren't sure of whether or not you need a replacement, we can help you with the diagnosis of your old system and selection of your next system. Turn to our team for reliable, helpful services you can trust.
Contact ServiceMax today to schedule an appointment with one of our professional technicians.