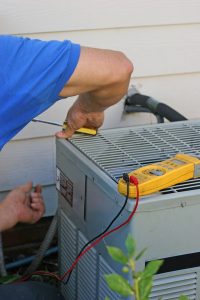 You may already be looking ahead to your calendar toward the end of June and the official first day of summer. If you are, make sure that when you think of the coming summer you also think about handling the summer heat with an air conditioner in the best shape possible. If you haven't arranged for professional maintenance for your air conditioner yet—the spring tune-up and inspection—now is definitely time to have it done!
If this is the first time you've heard about spring maintenance, we're glad we got your attention. Find out more about this vital service below.
Spring Maintenance Is Your Air Conditioner's Best Friend
Maintaining any piece of mechanical equipment is necessary to prevent unexpected breakdowns and to give it the longest service life possible. This is true for everything from cars to the electrical grid. Your air conditioning system is no exception. In fact, it needs routine maintenance more frequently than most appliances because of how much work it does each year. A huge amount of electrical power in your house each summer goes to the AC, and all that work accumulates on the system unless it has an annual tune-up, cleaning, and general inspection.
The inspection is critical for location areas in the air conditioner where problems may be developing. A licensed and trained HVAC technician can locate and prevent around 85% of the repair troubles the AC may encounter over its service life. That makes a big difference in your convenience and your budget. Inspections can pick up on troubles like leaking refrigerant and corroded wiring.
The general tune-up for the system, which includes jobs such as cleaning and lubricating moving motor parts and tightening electrical connection, helps the air conditioner work at the highest possible energy efficiency. You won't end up paying more to run the AC than you have to. The reduction in system wear keeps the air conditioner from aging rapidly so you'll enjoy a long service life from it. Best of all, maintenance can ward off an emergency system shutdown at the worst time.
Cleaning an AC doesn't mean just hosing down the cabinets! Technicians clean off the coils for better performance and remove the dirt and dust from inside the system that are prime culprits for energy waste and eventual repair troubles.
If your system is under warranty, you may need to have annual maintenance in order to keep the warranty valid. This is yet another reason to always stay current with your air conditioning maintenance. It pays you back in many ways, starting with the peace of mind that the AC will make it through the coming summer without failing.
The MAX Comfort Plan
You can arrange for both your heating and air conditioning in Winnetka, IL when you sign up for our MAX Comfort Plan. In addition to keeping up your HVAC system and enjoying the many benefits of finely-tuned equipment, you'll receive other benefits as well: membership discounts, money saving coupons, special financing, priority service, email reminders, and more.
ServiceMax offers AC and heating service throughout Chicagoland. We're open 24/7, All Day, Every Day!