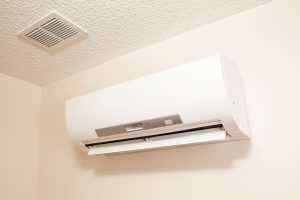 When you need to find a system to choose for your next AC installation in Skokie, IL it is a great idea to consider a heat pump if you haven't done so before. These systems are highly effective for keeping your home cool. However, they don't stop there.
There are many reasons why heat pumps are rapidly increasing in their presence in homes across the country. They can more easily fit the needs of many different types of homes. Let's see if your home may be the next to be outfitted with this wonderful new home comfort system.
What Makes Heat Pumps Unique
Heat pumps are a split-style systems, similar to central air conditioners. The first difference is that they are known as mini splits. This is because they are made to take up less room with a more compact outdoor unit and a small indoor unit that takes on the form of an air handler, allowing it to be wall-mounted in many cases.
Another unique trait is that they move heat. This may sound like nothing new when you consider how AC units work (absorbing heat and moving it outdoors), but this quickly becomes impressive once you switch it to heating mode. That's right, your heat pump can move heat out of the house and back into it according to what you need.
The Benefits Heat Pumps Can Provide
So, heat pump mini splits have a unique setup and an interesting ability, but how do those factors benefit you? Well, the answer is that they help you in a few ways:
Better energy efficiency: Heat pumps are made to be highly energy efficient, no matter which mode they are in. That means you can rest assured that you can cool your home in the summer without excessive energy use, and enjoy the same comfort in the winter too. What's more, heat pumps are even more efficient compared to natural gas heaters because no fuel goes to waste since they don't need fuel to warm things up.
Year-round comfort: Probably the best selling point for a heat pump system is that it can provide home comfort for you year-round. This means that rather than needing to invest in the skilled installation and upkeep of two systems, you only need to have a professional service one.
Saved space: We touched on this a bit above as well. but we want to explain it more. Not only are you saving space thanks to the smaller indoor unit but also because you have one system taking the place of two. That means you are saving even more space overall.
Details like these are the defining factors that can help you decide if a heat pump may be the right fit for your house.
Is a Heat Pump Right for You?
At the end of the day, no matter how impressive one system sounds, you'll want to make sure that you have a system that suits your needs. Make sure to consider things like the quality of your ductwork, whether or not you have ductwork, the square footage of your home, and more.
If you are hoping to see whether or not a heat pump would be the right choice for you, contact ServiceMax to talk to a technician to get the answers and services you need.