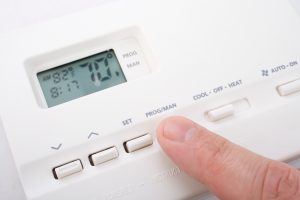 Your thermostat is the literal brains of your comfort operation. Without it, you cannot run your air conditioner in the summer or your heater in the winter. Having a reliable thermostat is important year-round.
When something starts to go wrong with your thermostat, it will directly affect your comfort. A faulty thermostat is likely to cause a lot more trouble than it is worth. This is why a thermostat upgrade in Chicago can be a great idea to deal with the comfort problems this system can cause. How do you know that you are due for an upgrade? Let's look at some of the indicators that will let you know you should switch out this system.
4 Signs You Need a New Thermostat
Not sure if you need to upgrade your thermostat? Here are some signs that you should get started with replacing your current system.
You've upgraded one of your HVAC systems recently but not the thermostat. You have a lot on your mind when you are going through the upgrade of your air conditioner or heater, but you shouldn't forget about the thermostat. If you upgrade either your heater or AC, you should always look at options to upgrade your thermostat too. An old thermostat can ruin the efficiency of a newer system.
Your thermostat can't get the temperature right. You walk into the house and it feels way too warm. However, when you check your thermostat it tells you that things should feel perfectly cool. That isn't right and it is probably a sign that something is off with the thermostat.
Your thermostat has a delayed response. When you go to turn on the AC, your thermostat should respond immediately. If instead you notice delayed response, or even no reponse at all, that indicates a failing thermostat. Make sure to replace this system before it goes completely dead.
The temperature setting on the thermostat changes by itself. Have you ever looked at your thermostat and noticed that the original temperature setting you had for it has changed? The thing is, you're the only one home! This means there is a glitch in your thermostat and you would do well to upgrade.
You still have a dial or switch-based thermostat. If you look at your thermostat and can judge its age based on the coloring of the plastic or how its style (ie. a switch or dial-type thermstat) chances are good that you'd benefit from an upgrade.
Need a New Thermostat? We Can Help
Getting a thermostat upgrade will help you enjoy better comfort now and in the months to come. Newer models can provide better temperature detection, allow you to create programs to optimize efficiency, and more. If you need help selecting the best thermostat for your needs, come to our team. We can assess your current comfort needs and pair you with a new Smart or Wi-fi thermostat that will take your comfort and your home efficiency to the next level.
Contact ServiceMax to schedule your thermostat upgrade. We're here for you, 24/7.