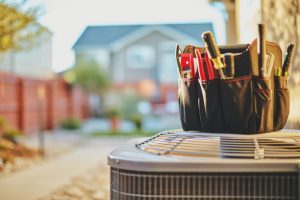 If you enjoy "do-it-yourself" projects around the home, there are probably a few big jobs you're itching to see if you can handle on your own. What about installing a new central air conditioning system? That sounds like it might be a genuine adventure, and you'll end up saving money on labor costs when you make the project your own.
Hold it right there! We understand your enthusiasm—but central AC installation must only be done by licensed HVAC professionals. This rule applies both to DIY attempts and allowing unlicensed amateur "handymen" to take on the work. A bad air conditioning system installation has many consequences that will cost you in comfort, money, and time.
What a Bad AC Installation Is Bad News
We can list many reasons why you should leave air conditioning installation in Chicago, IL to professionals like those on our ServiceMax team. But we'll focus on a few of the big ones.
The air conditioner won't work right
The modern air conditioner is complex. It's a type of refrigeration unit, and to understand the proper way to install one requires specialized training. Trying to install one with that training usually leads to a system that doesn't work right.
For example, an easy error to make is putting in an AC that's either overpowered or underpowered. Often, an amateur will purchase an air conditioner that's too powerful for the space, believing that there's no such thing as "too much cooling power." But this is hugely wasteful, because the AC will turn off early, then turn back on, then turn back off—all this start-up drains extra electricity. Of course, if the AC is not powerful enough, the house won't cool down.
The air conditioner will have a shorter service life
A central air conditioning system that's regularly maintained will last around 15 years, which is a good return on investment. A poor installation will cut into that lifespan. Any small mistake in selecting or putting in the new AC will make it work harder and wear down faster. You might end up replacing your air conditioner before it even reaches 10 years. That's a lot of money going to waste.
There's a high chance of injury
Putting in a new air conditioner requires some heavy labor and lifting and use of potentially dangerous tools. Electrical work is also involved—and that means high voltage shocks may also be involved. We don't want you to get hurt during this work, but letting an amateur do the work and get injured is also a serious problem. A non-licensed technician won't have the insurance to cover injuries sustained during the job, and you may end up liable for damages.
HVAC Professionals Do Jobs Fast and Right the First Time
Investing in a professional air conditioning installation is an investment in many summers of a cool home with few comfort drops or repair issues. It's also an investment in speed—our technicians never cut corners, but they can get the installation job done in a short time so you can start enjoying a cooler home.
ServiceMax is open 24/7 – All Day, Every Day! Schedule a great air conditioning installation for summer.