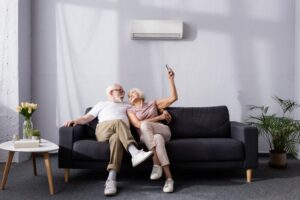 There are many ways to heat and cool your home. Boilers, gas or electric furnaces, central air conditioners, window AC units and more can all help you to keep your home at the temperature you desire. But our favorite system to recommend when a homeowner is ready for an upgrade is the Mitsubishi ductless mini split.
What's so great about it, you ask? What is a ductless mini split? How is it better than other systems? And why do we recommend Mitsubishi specifically? We'll tell you all about it.
The Layout of a Ductless Mini Split
In a ducted system, the heat pump or air conditioner has all of its heating or cooling power located in one central indoor unit. The heated or conditioned air is then distributed throughout the house in a system of ductwork that leads to vents in various parts of the home.
A ductless mini split, as the name implies, does not rely on ductwork. Instead, the refrigerant coils coming into the home are split, heading to individual air handlers. The air is heated or cooled at that location and vented directly from there.
Ductwork's Downfall
While ducted systems have been popular for a long time, they do have some shortcomings. If ducts are damaged or have deteriorated from age, they allow expensive heated or cooled air to escape, wasting energy and driving your utility costs up. This can cause unnecessary energy use that can be as much as 30% of your heating or cooling bill.
Even when they are undamaged, the process of transporting the air through the ducts is inefficient. The surface area of the ducts allows for a lot of thermal transfer. This means that, for example, the icy air from your AC absorbs heat from the air around the duct, and isn't as cool anymore by the time it reaches your vents.
Mini Split Efficiency
It's not just by avoiding ducts that mini splits are more efficient. Having individual air handlers, each with its own thermostat, means that you only need to heat or cool various zones. If you're spending the whole day in your home office, a central system would force you to keep the whole home at your ideal temperature. You can dramatically reduce energy consumption by controlling your temperature by zone.
Mini splits are ideal for use with heat pumps, which operate like air conditioners but can reverse the flow of refrigerant to carry warmth into your home. In our area, you can eliminate the use of other heating systems in the spring and fall in favor of this extraordinarily efficient system. Transferring heat, rather than generating it, only uses a fraction of the energy.
Mitsubishi Ductless Mini Splits
The systems manufactured by Mitsubishi are truly top of the line. In addition to being extremely efficient, they are quieter than other heating and cooling systems. Mitsubishi has a reputation for making products that don't just work well, they work for a long time. In fact, Mitsubishi was founded more than a hundred and fifty years ago, so they are experts at keeping customers happy in the long run. 
If you're ready for an upgrade, or would like to know more about getting a Mitsubishi mini split system in Skokie, IL, we'd love to hear from you.
Contact ServiceMax with any questions about your heating system.