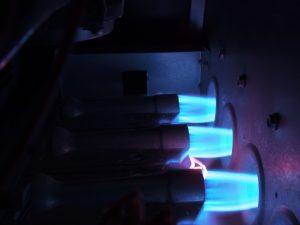 What type of heating system do you use to warm up your house during a tough Chicagoland winter? If your home is like the majority, the answer is a natural gas furnace. Gas furnaces are the most common type of residential heating system across the country, especially in locations with cold winters. Gas furnaces not only produce a large amount of heat, they do so at less expense than electric furnaces because natural gas costs less than electricity per unit.
However, any natural gas appliance has the potential to develop safety hazards. We don't want to alarm you, as a well-maintained gas furnace will rarely encounter dangers, and current furnace models are built with safety in mind and have special features to prevent the escape of carbon monoxide or a rise in combustion hazards.
There is one gas furnace problem we want to draw your attention to, because it's the most common reason for a furnace allowing toxic gasses into a home: the cracked heat exchanger.