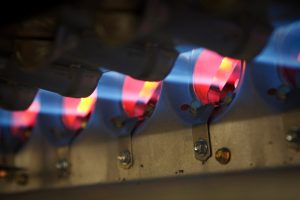 The gas furnace is the heating system found in more homes across the country than any other. In areas with harsh winters, a gas furnace has the power to overcome the coldest days without running up the enormous bills an electric furnace would. And a gas furnace can deliver warmth faster than electric heating systems.
But despite their popularity, gas furnaces have a large number of myths and misunderstandings surrounding them. We'd like to shine a spotlight on a few of these and tell you the truth. That way you'll get the most out of your home's gas furnace.
Myth: Gas furnaces are inherently dangerous.
Truth: Although any gas-using appliance has the potential for combustion dangers and toxic carbon monoxide leaks, the idea that a gas furnace poses a major risk in a home is untrue. If gas furnaces were this dangerous, they wouldn't be legal! If a furnace receives annual maintenance, it has a minimal chance of creating any hazards in a house.
Myth: A gas furnace will heat a home faster at a higher thermostat setting.
Truth: A gas furnace is either providing heat or it isn't. The thermostat manages how long it stays on to spread heat around the house. The higher the thermostat is set, the longer it will keep the furnace running to meet its temperature setting. No matter how high you push your thermostat, the furnace will warm the house at the same speed. Set the thermostat at a comfortable temperature and leave it there—you'll save energy!
Myth: A high-efficiency gas furnace automatically means my heating bills will drop.
Truth: We do recommend homeowners look into a high-efficiency furnace when it's time to install a new heating system. But simply getting the furnace with the highest AFUE rating (efficiency rating) isn't a guarantee of savings. If the furnace is too large or too small for the house, the system will still waste power. If your home has insulation issues, leaking air ducts, the high-efficiency unit won't help much. Make sure you work with professionals to ensure you have an installation that will provide you with savings.
Myth: A gas furnace doesn't need an annual inspection from an HVAC professional
Truth: Although any HVAC contractor worth hiring offers an annual maintenance program to care for a home's gas furnace, many homeowners decide not to sign up for one and only have maintenance check-ups every couple of years. This is a serious mistake! One of the ways to keep a gas furnace working safely as well as efficiently is to have it professionally inspected each year. This will also help the furnace enjoy a long service life. In many cases, missing out on maintenance will void the warranty on the system, which can mean paying too much to replace the system if it fails early.
If you need help with home heating repairs in Chicago, IL to keep a gas furnace working its best, rely on our experts. We aim to deliver 100% satisfaction.
Schedule furnace repairs and more in Chicagoland with ServiceMax. We're open 24/7—All Day, Every Day!